What is an Electrical Cable Raceway
Hey there, what do you think of when you hear the word "Raceway"? A race track where some competitive speed events take place, involving cars or horses, right? Yes, that is a literal truth. 
But, as Wikipedia tells us, raceway can also refer to a "surface mounted wire moulding". Namely, a raceway is an enclosed conduit that creates a physical pathway for electric wiring. It refers to a channel that protects, routes, and hides unsightly cables and wires to make your home look tidy. Mounted on a wall, a desk, or some other surface, the cable raceway can conceal wires or cables so well. It's legitimately one of the most useful and versatile cable management tools for the home.
Raceway systems act as protection for cables and wires against pets' chewing, heat, humidity, water interference, corrosion, and other physical threats. Installed according to the National Electrical CODE (NEC), raceway systems also protect people and properties from electric hazards.
All in all, there are three types of common raceway systems:
1. Galvanized Steel
This type of raceway system is primarily used for industrial and commercial purposes. Due to its supreme strength, galvanized steel raceways help protect wires that are located in corrosive environments. Galvanized steel is among the most popular steel types because of its extended durability, strength, and formability of steel plus the corrosion protection of the zinc-iron coating.
 2. 

Non-Metallic Conduit (PVC)
Non-metallic or conduit raceway systems are typically used in homes and underground. This type of raceway is non-conductive and water-resistant. 
3. 

Flexible Metal Conduit (FMC)
Flexible metal conduit raceway systems are ideal for wiring that needs to curve or turn in different directions during its pathway. These are great for areas that experience high levels of vibrations as the flexibility of the raceway protects the wires against sudden jolts and movements. One drawback of FMC raceways, however, is that they are not suitable for highly corrosive environments. 
As you can see, different types of raceways can be buried underground or installed on the surface. Raceways that are buried or underground are usually installed under flooring and used in buildings that feature many cables and wires. Surface raceways are typically located in walls and found in buildings such as residential homes and offices. 
Here at DELAMU, we have versatile PVC raceways that can be cut to the desired size and painted to match the surrounding décor. It can be cut to the desired size and painted to match the surrounding décor, and myriad accessories are available to get just the right setup. Elbow bends, T-junctions, couplers, and more can help you make turns, go around corners or split your cables off in different directions. It typically features an adhesive tape that lets it install on smooth flat walls with no tools at all. Just peel and stick. It works really well for speaker wires, TV cables, net cables, or other cords that travel up walls.
 There are several feature-based varieties.
1. Latching Raceway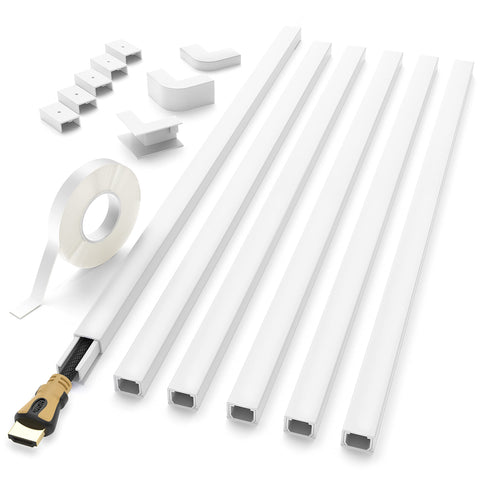 The latching raceway features a hinged or sliding cover that fully encloses the cables within the channel. To add or remove wires, you simply open the hatch or slide the cover off. It's available in many different sizes and is great for cables around the house like speaker wires or TV cords. Latching raceway is a discreet way to conceal and fully enclose household wires.
2. J Channel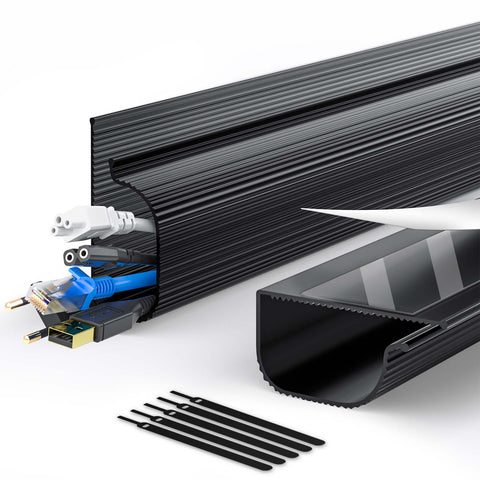 J Channel raceways feature a curved J-shaped cross-section which allows the cables to be easily inserted by dropping them through the top. "J" keeps the cables in place. Due to their open nature, they cannot be used in a vertical manner like a latching raceway, and are usually found in use on desks to route computer cables and other related wires neatly and well off the ground.  
3. Corner Duct
The corner duct features a unique quarter-round shape that allows it to blend into the wall or ceiling junctions for a complete and finished look. These are good for media, speaker, and home theater cables located near the corner of a room, or for cables that hang from the ceiling.
With so many types of raceways, it can be hard to find the right one for what you want. Below is a brief summary of what raceways you should consider for different environments:
*Home-A latching raceway or corner duct.
*Offices-A latching raceway or corner duct would suffice for professional sites as well as J Channels.
DELAMU Raceway Systems
Cabling is an important part of data and telecommunications systems and is used in millions of commercial and residential properties worldwide. Unprotected cables break and cause system shutdowns and expensive repairs - costing property owners time and money. To prevent your cables from exterior damage and to keep them neatly sorted and hidden, you need a cable raceway.  
Raceway systems are critically important in protecting wires and cables as well as those around electrical equipment We specialize in cable and wire systems and have abundant experience in organizing solutions and raceway systems. If your cables have gone a bit wild, our cable management accessories will help you get them under control. DELAMU cable management products help keep cords straight and tangle-free, even when there are many of them. If you require raceways at home, or in the office, get in touch with DELAMU now.